St Louis Park


Class of 58, The Luckiest Generation
Welcome to the
St Louis Park Senior High School
Class Of 1958 Web Site.
Home of the Orioles!
For music to accompany your viewing of this Home Page, click here:
We want to keep in touch with you. If you change your email address, or mailing address or phone number, be sure to go to MEMBER FUNCTIONS and make those changes under "Edit Contact Info."
Classmate News for March
Minnetonka Band Concert
Once again, Classmate Dan Geldert announces his March Concert:
"I have another concert on the way with the Minnetonka Concert Band (adult community band) on Sunday, March 24th, 3pm at Minnetonka High School.
This time I'm calling it "American Landscapes" featuring Copland's " Appalachian Spring", Rogers and Hammerstein's "Oklahoma", "On The Trail" from Grofe's, Grand Canyon Suite, and more.
Once again, I guarantee you will have a smile on your face as the concert comes to a close.
Hoping you can fit it into your busy calendar."
Many thanks,
Dan
<>~<>~<>~<>~<>~<>~<>~<>~<>
Classmate Shelly Litman has passed away. Check out his obit notice at our link, "In Memory".
<>~<>~<>~<>~<>~<>~<>
Here's a wonderfully nostalgic You Tube Video just sent in by Classmate Kurt Schleicher. During these cold and snowy February days, why not watch something that will take you back to the days of our youth? Just click on this:
https://www.youtube.com/embed/nSC7SXQpInM?rel=0
<>~<>~<>~<>~<>~<>~<>~<>~<>~<>~<>~<>
Send in some new news about your friends from St. Louis Park High.
It's been snowing a lot in Minnesota lately...but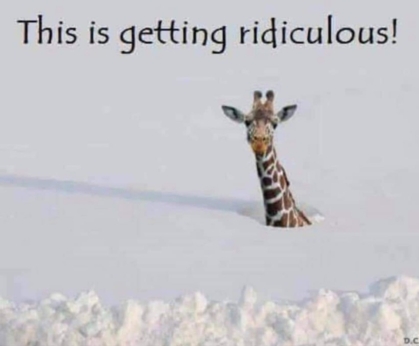 <>~<>~<>~<>~<>~<>~<>~<>~<>~<>
How's your memory after 75 years? Here's a picture sent in by Kent Brothen of a 1943 Birthday Party for Carol Banbury. Kent says that he's on the left (in the sailor's suit), next to Carol (blond with the hair ribbon), with Steve Hamilton (tallest in the back row) and Phil Nichols front and right. Is Kent right about all of this?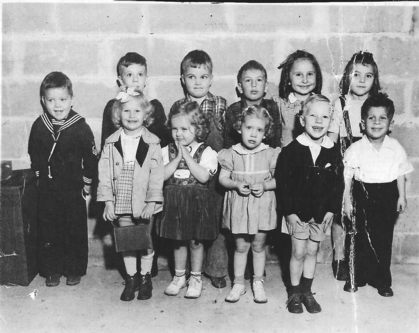 <>~<>~<>~<>~<>~<>~<>~<>~<>
Here's a picture sent in by Barbara Solberg. It's apparently a class that moved from Lennox, when it was under construction, to Oak Hill. Barbara says she can spot Kent Elverum, Janet Aarness, Diana Ewing, Sandy Blair, Elliot Husney and possibly Dan Geldert and Allan Moran. Several others look familiar but she can't come up with names. Can you?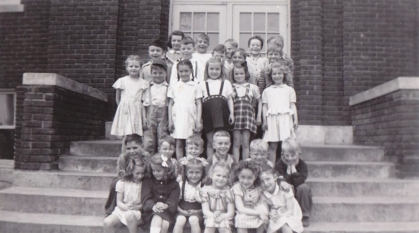 <>~<>~<>~<>~<>~<>~<>~<>~<>
Here's Barbara's 2nd entry, also from Oak Hill School. It is a good thing none of those in the back are hoping for confirmation to any political office today. What???? And we were just kids! What on earth were we thinking? Maybe hoping to be a Governor?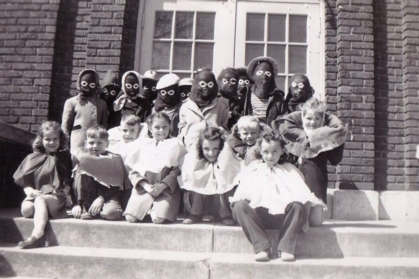 ---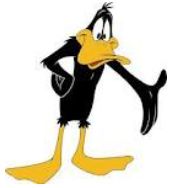 ... that today is the anniversary of the World's Shortest St. Patrick's Day Parade

? Each year, in Hot Springs, Arkansas, the 98 feet of Bridge Street hosts the shortest St. Paddy's parade in the world. Previously, the title was held by the Dripsey, Cork parade. That parade lasts 100 yards and travels between the village's two pubs. Happy St. Patrick's Day! :-)
///////////////////////////////////////////////
Can you recognize this photo?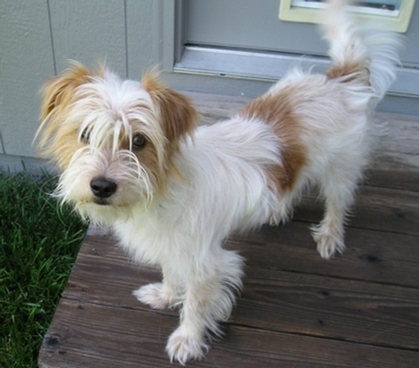 Remember when nobody we knew owned a pure bred dog?
//////////////////////////////

Today's Inspirational Quotes

"May love and laughter light your days, and warm your heart and home. May good and faithful friends be yours, wherever you may roam. May peace and plenty bless your world with joy that long endures. May all life's passing seasons bring the best to you and yours!"

-- Irish Blessing
"Let's teach our daughters it's not about being beautiful. Teach them to be bold. Be silly. Be strong. Be confident. Be independent and intelligent. Be brave and be fierce. Be real, in a world full of fake. Let's redefine beauty."

-- Pooja Pawar
<>~<>~<>~<>~<>~<>~<>~<>~<>
This Week's Nostalgic Photo
Each week a new photo will appear below. You won't have to guess what it is. The item will be obvious. Just be amazed at what you see or have forgotten!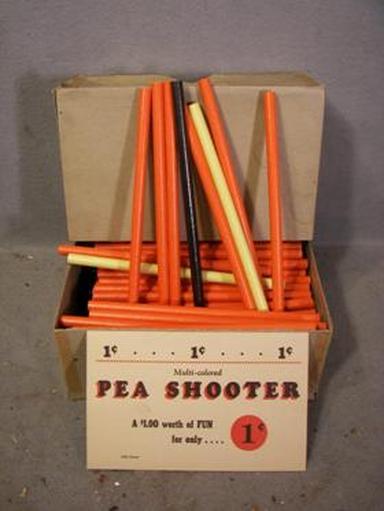 Just think! A dollar's worth of fun for only 1 cent. And they came in a box of a hundred.
<>~<>~<>~<>~<>~<>~<>~<>~<>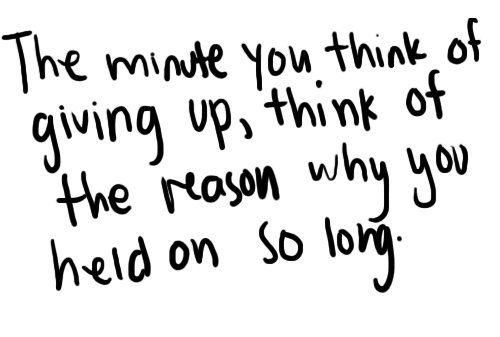 "It was one of those March days when the sun shines hot and the wind blows cold: when it is summer in the light, and winter in the shade."
Charles Dickens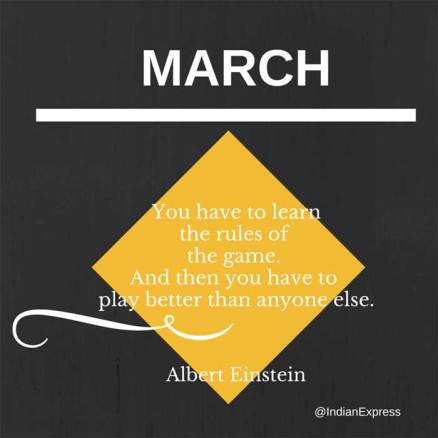 <>~<>~<>~<>~<>~<>~<>~<>~<>~<>~<>~<>~<>~<>~<>~<>
Featured Article, Website or Blog:
Weeding Out Some Common Organic Gardening Myths

Just about everyone's interested in organic gardening from one viewpoint or another, so it's no surprise that organic gardening myths might pop up in the garden of public opinion. Myths both pro and con are easy to come by -- so we'll cover both sides of the issue in this article. Here's the truth about four popular ones:
http://www.mythbusters.com/weeding-out-some-common-organic-gardening-myths.html
******************************************************
We have thirteen Photo Albums, with accompanying music, to share with you.
These are mainly Albums from our 50th, 55th and 60th Class Reunions. You will find them all at the links entitled "Our Photo Gallery" and "50th Reunion Photo Sets" and 60th Reunion Action links at the left side of this page. They are...
SLP Class of '58 Gallery

..........variety of photos sent in by classmates

Our High School Times

............photos from our days at Park High

55th at the Park Tavern

............Sept. 10, 2013 - 1st 55th Reunion Event

55th at the Farm

........................Sept. 11, 2013 - 2nd 55th Reunion Event

55th at The Hall of Fame

..........Sept. 12, 2013 - Induction Banquet

70th Birthday Cruise

..........Our July 20, 2010 Cruise on Lake Minnetonka

50th School and Bus Tour

.......Big 50th Reunion - Day 1 Activity

BBQ at Tim Kiernan's Farm

.....Big 50th Reunion - Day 2 Activity

Relaxing Saturday Morning

.....Big 50th Reunion - Day 3 Morning

50th Saturday Banquet

............Big 50th Reunion - Day 3 Evening

60th Reunion at Kip's Bar

........Our Friday Night - Day 1 Activity

60th Reunion at Tim's Farm

....Our Saturday Afternoon-Day 2 Activity

60th Reunion Banquet Shot

....Our Sunday Evening - Day 3 Activity
Sit back, adjust each album to "full screen mode," turn on the music at the scroll at the top or bottom of each photo set, change tunes or watch without music...all to suit yourself. Come back often. You'll recognize someone different each time!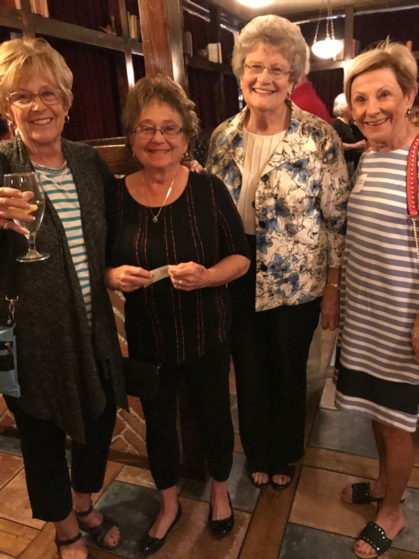 Four of the best, at our 60th at Kip's: Judith Carroll Chambers, Sandy Canton Kerwin, Carol Erickson Skala and Gail Nelson Helgeson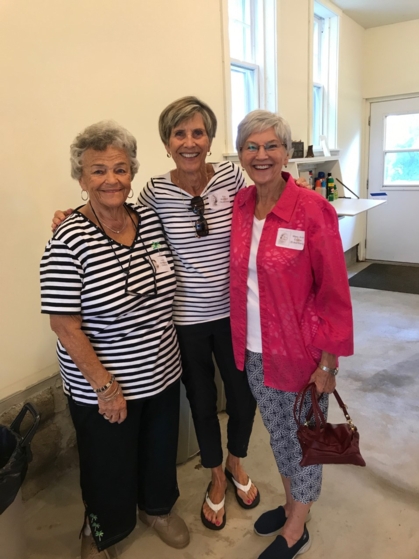 Judith Alexander Steward, Kay Knudson Studebaker and Mary Ann Evans Eckenberg. See who else was there at the "60th at Tim's Farm" Photo Album.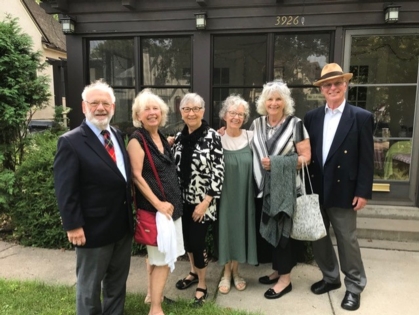 Getting ready for the 60th Reunion Banquet are Jonathan Daube, Beverly Watts Hedin, KC Cravens Bretzke, Linda Lindquist Daube, and Nancy Jo Wallace Lopp & Larry Lopp. See who else was at the Banquet at the "60th Reunion Banquet Shot" Photo Album.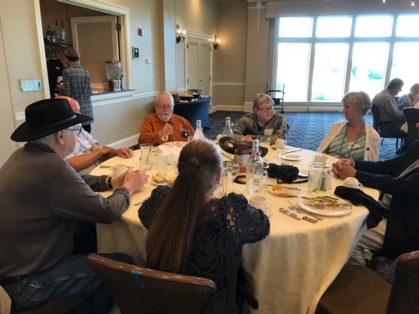 Guess who's enjoying the 60th Reunion at the Minneapolis Golf Club!
<>~<>~<>~<>~<>~<>~<>~<>~<>
Minnesota ~ You Gotta Love It!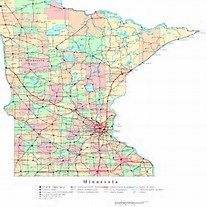 Come back home to Minnesota - a water wonderworld
This is a totally free site: Find your name under the link at the left entitled "Classmate Profiles" and join us.